Манометр дифференциального давления DPGS43HP.100
Доставка: В любой регион
Доставка продукции осуществляется транспортными компаниями на Ваш выбор. Подробнее
Мы рекомендуем:
| | |
| --- | --- |
| ЖелДорЭкспедиция | Деловые линии |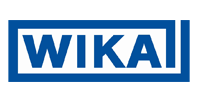 Раздел каталога:
Датчики дифференциального давления
Applications
Control and regulation of process values
Monitoring of plants and switching of electric circuits
Differential pressure measurement at points with a high differential pressure overload and/or high process pressures (static pressures), also in corrosive environments
Easy-to-read, local analogue display needs no power supply
Monitoring and control of pumps, filter monitoring, level measurement in closed tanks
Special Features
Differential pressure measuring ranges from 0 … 60 mbar
High working pressure (static pressure) and high overpressure safety up to 40, 100, 250 or 400 bar
Hydraulic cushioning protection against rapid pressure changes
Gauges with inductive contacts for use in hazardous areas with ATEX approval
Gauges with electronic contacts for PLC applications switchGAUGE model DPGS43HP.100
Description
Параметр
Значение
Nominal size in mm
100, 160
Accuracy class
1,6 (Monel version: 2,5)
Scale ranges
0 ... 60 mbar to 0 ... 250 mbar (gauge head DN 140)
0 ... 0.4 bar to 0 ... 40 bar (gauge head DN 80)
Overpressure safety 400 bar: 0 ... 0.4 bar to 0 ... 40 bar or all other equivalent vacuum or combined pressure and vacuum ranges
These differential pressure gauges are made of highly corrosion-resistant stainless steel. A high overpressure safety is achieved by the all-metal construction and the close-fitting design of the pressure measuring diaphragm.
With its high-grade stainless steel construction and robust design this pressure gauge is geared to chemical and process engineering applications. It is suitable for gaseous or liquid media and also for corrosive environments.
The wetted parts for these differential pressure gauges are available also in special materials such as Monel, Hastelloy or PTFE. Scale ranges from 0 ... 60 mbar to 0 ... 40 bar are available to meet the requirements of a wide variety of applications.
Рекомендуем: