Термометр сопротивления TR10-H
Доставка: В любой регион
Доставка продукции осуществляется транспортными компаниями на Ваш выбор. Подробнее
Мы рекомендуем:
| | |
| --- | --- |
| ЖелДорЭкспедиция | Деловые линии |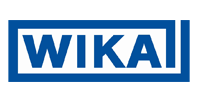 Раздел каталога:

Термометры сопротивления
Applications
For direct process connection
Machine building
Motors
Storage
Pipelines and tanks
Special Features
Application ranges from -200 °C to +600 °C
For inserting, screwing-in with an optional process connection
Connection head Form B or JS
Explosion-protected versions Ex-i, Ex-n and NAMUR NE24
Description
With sheatehed resistance thermometers, the part of the probe is a mineral insulated cable, often called the sheathed cable. This cable consists of a stainless steel outer sheath, in which the inner conductors are encased for insulation and compressed into a highly compacted ceramic mass.
The measuring resistance is connected to the inner conductors at the measuring end of the sheathed cable. Connector wires are connected to the other end of the sheathed cable, and the sheathed cable is hermetically sealed with a sealing compound. They usually were connected to terminal blocks.
Рекомендуем: