Манометр с трубкой Бурдона PGT23.063
Доставка: В любой регион
Доставка продукции осуществляется транспортными компаниями на Ваш выбор. Подробнее
Мы рекомендуем:
| | |
| --- | --- |
| ЖелДорЭкспедиция | Деловые линии |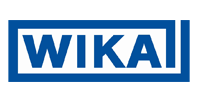 Раздел каталога:
Манометры с трубкой Бурдона
Applications
Acquisition and display of process values
Transmission of process value to the control room, 4 ... 20 mA
Easy-to-read, local analogue display needs no power supply
Safety-related applications
Special Features
"Plug and play" means no configuration necessary
Measuring ranges from 0 ... 1 bar to 0 ... 600 bar
Easy-to-read, nominal size 63 analogue display
S3 Safety pressure gauge per EN 837-1
Can be combined with diaphragm seals
Description
Параметр
Значение
Nominal size in mm
63
Accuracy class
1.6
Scale ranges
0 … 1 up to 0 … 600 bar
or all other equivalent vacuum or combined pressure and vacuum ranges
At any point with limited space, where the process pressure has to be indicated locally, and, at the same time, a signal is wanted to be transmitted to a central controller or remote control room, the model PGT23.063 intelliGAUGE can be used.
Through the combination of a mechanical measuring system and electronic signal processing, the process pressure can be read securely, even if the power supply is lost. The model PGT23.063 intelliGAUGE fulfils all safety-related requirements of the relevant standards and regulations for the on-site display of the operating pressure of pressure vessels. An additional measuring point for the mechanical pressure indication can thus be saved.
The model PGT23.063 is built upon a high-quality, stainless steel pressure gauge in safety pattern version model 23x.30 with nominal size of 63. The pressure gauge is manufactured in accordance with EN 837-1.
The durable, fully-welded Bourdon tube measuring system produces a pointer rotation proportional to the pressure. An electronic angle encoder, proven in safety-critical automotive applications, determines the position of the pointer shaft – it is a non-contact sensor and therefore completely free from wear and friction. From this, the pressure-proportional, 4 ... 20 mA electrical output signal is produced.
The electronic WIKA transmitter, integrated into the highquality mechanical pressure gauge, combines the advantages of electrical signal transmission with the advantages of a local mechanical display. The measuring span (electrical output signal) is set automatically along with the mechanical display, i.e. the scale over the full display range corresponds to 4 ... 20 mA.
Рекомендуем: